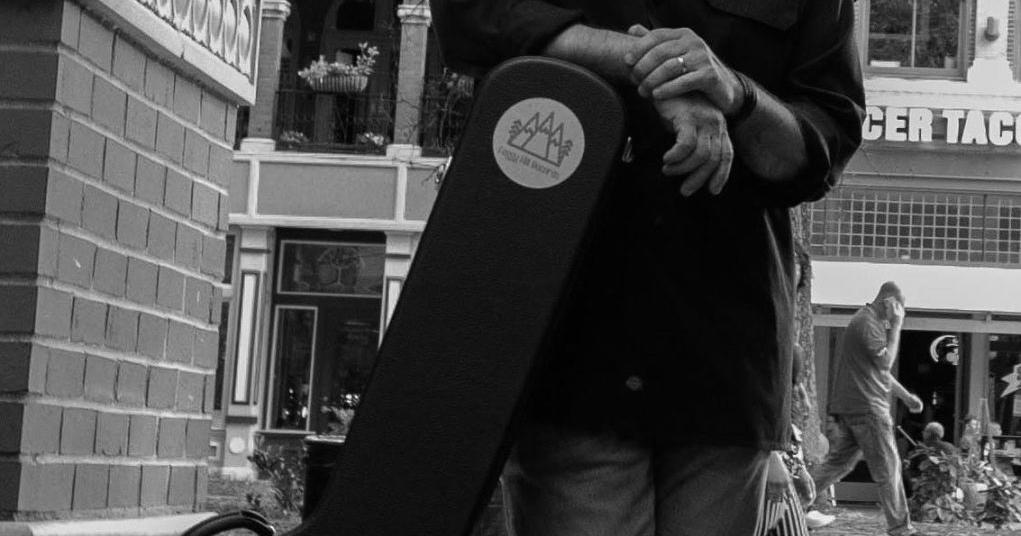 A LIFETIME LOVE AFFAIR WITH SONG: Singer-songwriter Kevin Mahoney enjoys sharing his gift with local listeners | Entertainment
The late John Condrone may have lost his battle with COVID-19 16 months ago, but singer-songwriter Kevin Mahoney assures his friend and musical peer will never be forgotten.
Mahoney keeps a stack of stickers with the date of Condrone's death – October 20, 2020 – to hand out to those who remember the Blount County resident, himself a Dove Award winner and Grammy nominee, as well as a professional wrestler whose name in the ring was Johnny Meadows.
Condrone took Mahoney under his wing when the latter moved to East Tennessee several years ago from Long Island, and when Mahoney closed his sets with a cover of Warren Zevon's "Keep Me in Your Heart," he always dedicate to Condrone.
"I played there last night and I always bring up John," Mahoney recently told The Daily Times. "I feel very honored and lucky to have played over 100 shows with him, and me and him and Chris (Long, another East Tennessee songwriter) called Tres Amigos every time we played together .
"We were playing this song, and he was always messing up the words on purpose and giving me this little smile. He was so warm, funny and talented, and having someone like him compliment you on your voice, music and songs is an instant confidence boost. He is literally with me every time I play.
And he will be there on Saturday night at Townsend Abbey, when Mahoney and Long perform their acoustic tales of wonder, love, heartache and humor. As pleasant and friendly as Mahoney is, there's no other way he'd rather communicate, and that's how he fell in love with two seminal albums he still owns today: "Meet the Beatles" and "The Monkees".
"I vividly remember sitting down and listening to these albums, holding them and turning them over, hours and hours of the day," he said.
His parents, he added, were the oldest children of his grandparents, meaning several aunts and uncles were just a few years older than him and introduced him to rock 'n' roll. popular roll of the time. He started playing the drums, honing his sense of rhythm, but it was a Charlie King, a classmate at the Long Island Catholic Boys' Military Academy where they were both students, who put him on. a guitar in their hands during their first year. .
"He taught me three chords and 'Free Bird,' and from then on I stopped playing drums," Mahoney said. "I still have some hand percussion and conga stuff, and I played clarinet when I was younger, but by then guitar was everything. I realized, 'This is what I want to do.' I used to turn on the TV and figure out the commercials, then when MTV came along, I'd just sit there until my eyes were blurry, finding out the basslines and chords of every song .
He collected songs like so many young people do – one single and one album at a time, but for Mahoney they also became fodder for his six-string. Billy Preston's "Will It Go Round in Circles" blew him away the first time he heard it on AM radio, and the first record he bought with his own money was "The Grand Illusion" by Styx. Music was all he wanted, and every Christmas Eve he looked forward to the records his loved ones gave him.
"I've whittled down to three milk cases of albums I still have, but a lot of them – 'Rumors' (by Fleetwood Mac), 'The River' by Bruce Springsteen and others – are still there. ", did he declare. "When I was choosing an album, it was an event. I would sit down and read the liner notes…look at the cover, look at the back…and as you listened, you listened from start to finish, flipped it over and listen to the other side from beginning to end. Even now, I try to make sure that every CD I record has a flow, from beginning to end, just like those albums.
He dabbled in rock bands, but he never sought the limelight like some of his flashier peers did. Two decades ago, when his wife was pregnant with their first son, he decided to quit playing in a band and focus fully on being a singer-songwriter, he said. .
"I remember thinking, 'No more poker nights, no more bowling; I'm not wasting this time. If anything is going to get me out of the house it will be the music," he said.
After his wife and child fell asleep, he would find open-mic songwriter parties, looking for an outlet to showcase his playing and singing. A few became regular outlets, and one, in particular, led to friendships he still enjoys today. These evenings became learning laboratories, he said, in which he honed his craft through honest feedback from his peers whose suggestions stemmed solely from a desire to serve the song.
"It was almost like, as soon as I was able to play chords, I started writing stuff," he said. "A lot of songs were coming out of mistakes – I was messing something up and going, 'Wait a minute; I like it!,' and I would go in that direction. Every night I try to write a line or have fun on chords. Every night I pick up the guitar and try to write something.
When a job change brought him to East Tennessee in 2015 (he's National Brand Manager for Radio Systems Corporation's Invisible Fence), he found the same camaraderie he found on Long Island. Once he settled in, he said, he went in search of his people, which led him to the Knoxville Songwriters Association and various open-mic nights.
Within a year, he befriended Condrone, who invited Mahoney to play at the Crystelle Creek restaurant in Gatlinburg, and from there his name started circulating. On the one hand, he says, the musicians of East Tennessee have never hesitated to invite him to share the stage with them; on the other hand, Condrone's stamp of approval was all the credibility Mahoney needed among his new peers.
"I love the East Tennessee singer-songwriter community," he said. "The places I like to play are more the listening rooms, where people go to listen to you play and enjoy the more acoustic stuff. That's my circuit, and what I've found is that if you come humbly and appreciate everyone who's already there, that's the community you're building.
Over the past few years, it's become a fixture at most local venues that offer a place for a guitarist songwriter to publish and share their work with an attentive crowd. He's even made inroads into Nashville, but a place like Townsend Abbey, he said, is an oasis because of its embedded audience of music lovers and its location in the sleepy mountain hamlet. of Blount County.
"I've played there once a month, first with Chris and John and now with just Chris, and it's very welcoming," he said. "This community and the people are so friendly and kind and warm, and they want to hear you play. There's a real sense of community and the feedback you get is very genuine. It's one of my favorite places to play, never.
Now, he hopes to build on the success he's had, from having a song included in a nationwide sampler distributed by Relix magazine, to TV spots, to guitar pick-to-a-song endorsements (" Playing with Fire") in the regular FM radio rotation. He is working on his next album, "Kindred Spirit", which will see a pivot from the pop-oriented sounds of his self-titled album to a more meditative groove that relies on his playing as much as his vocals, he said.
"It will just be me and a guitar, and the music will have a more acoustic and zen quality to it," he said. "Some of the stuff I've tested live, and there's going to be a lot more 12-string (guitar) on it. I think I recorded all the songs but one or two tracks on a 12-string, because that's is so full and brilliant. I like to say it feels like Tommy Shaw meets Edwin McCain.
He laughs at the comparison, but he's also serious about it – because if there's anything all those nights in cafes and listening rooms have taught him, it's that all he has need is a bit of willpower, a bit of courage and a belief in the songs themselves to follow his muse wherever she leads.
"If anyone ever sees a sign outside saying open mic or singer-songwriter night, don't pass it by," Mahoney said. "If you're hungry for a burger, if you want a cup of coffee, if you want something to drink, there's no amount of money you could put in a tip jar that would mean more to a singer-songwriter than sitting in a seat and listening.
"When you pay attention, it's encouraging, and if you get the chance, I urge everyone to give it a try. You'll laugh, you'll have a great time, and maybe you'll hear something that will make you put that burger down and look up. That's my goal."
Steve Wildsmith worked as a writer, editor and freelance journalist for the Daily Times for over two decades. In addition to covering entertainment and occasional news stories, he is also the social media specialist for Maryville College. Contact him at [email protected]