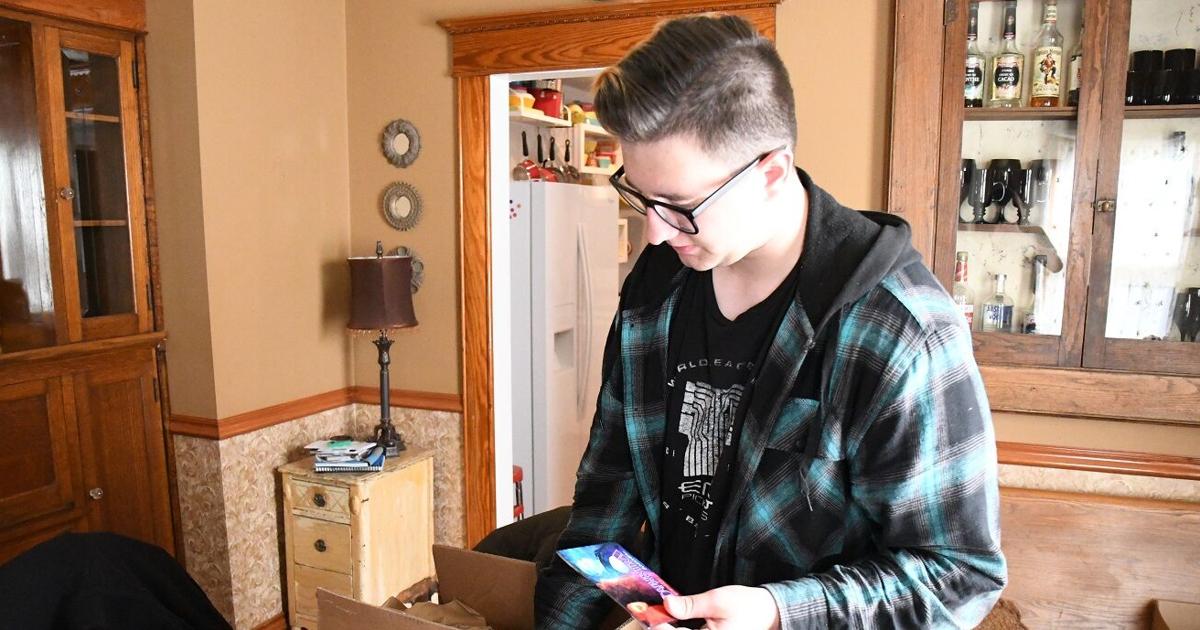 Boyden guitarist releases new rock album | New
[ad_1]
BOYDEN — Eli Dykstra described his new album as "three years of hard work summed up in 53 minutes".
The 19-year-old boyden rock guitarist released the 12-track record, "Devil & Angel" on October 31 – the first musical release he made under the solo moniker, "Dykstra".
He said the songs on the album were not selected for inclusion on his 2019 record, "Time," which he released under the artist name "Eli Dykstra Rocks!"
It wasn't that Eli didn't like them then, but because he felt he hadn't perfected them yet.
"It took three years to perfect this album, so to see it come out – as I remember first releasing it on Spotify and seeing the album art on Spotify and it's one of the most great feelings of all time, "the guitar phenomenon said.
"It's almost better than seeing CDs on iTunes and Spotify. And I think maybe it's just because I've grown more in the digital age.
He composed most of the music for the album in Iowa – and then presented them on demo in Hawkeye State – but recorded, mixed, and mastered the tracks in Nashville, TN, where he has resided ever since. 2020 shortly after graduating from Boyden-Hull High School in Coque.
The album title refers to the themes of good versus evil, heaven versus hell and the contrasting sounds of Eli's musical repertoire.
The idea for this dichotomy arose when someone at a live performance commented that he had a black guitar and a white one – or as they say, "a devil's guitar and an angel's guitar" . While working on the album, Eli said it unintentionally turned into some kind of concept album.
"If you read the song titles, it plays out like a story," he said.
The opening track is called "Devil", while a halfway song is called "Purgatory" and the closing song is "Angel". The music also follows a similar thematic shift: the songs in the first half are heavier and angrier, while the later songs are lighter and more melodic.
Besides playing guitar, Eli is behind all of the other instrumentals on the album – bass guitar, drums, violins, strings, piano, and synth.
After Eli graduated from high school, he was originally required to enroll in the Apprentice Academy in Franklin, TN, a suburb of Nashville. The 16-week program teaches students "the ins and outs of the music industry, recording, engineering and production," according to Eli.
The coronavirus pandemic canceled the fall 2020 schedule. Nonetheless, Eli decided to move to the capital of Tennessee to connect with other professional musicians and expand his skills as a guitarist and songwriter.
He joked that a person could throw a brick into the Nashville sky and have a higher chance of hitting a musician than a car. Living in the city for the past 12 months has been one of the best years of his professional life. He compared it to living in Iowa, where he felt his musical creativity had stalled.
"By moving to Nashville, I now meet other musicians who are a million times better than me," he said. "It really made me work harder and become better than anything I've ever been here, when it comes to my acting and my writing."
In particular, he reconnected with blues music – the genre he started playing in – and developed more story-driven songwriting approaches thanks to the popularity of country music in this city.
His journey to the music-saturated metropolis was a chain reaction of events, starting with his involvement with the O'Keefe Music Foundation. Eli got involved with the Cincinnati-based foundation – which allows young musicians to record their musical performances for free on video and post them online to promote them – about five years ago.
Thanks to this experience, Eli had the opportunity to record in a studio in Nashville. This experience sparked his interest in music production and he began recording his own music thereafter. His first extended recording (EP) was titled "Eli Dykstra Rocks! and released in 2018.
Through this first recording experience, he met photographer Shawn Hudgins. He took the cover photo for Eli's debut EP as well as for "Devil & Angel" and it was he who told him about the Apprentice Academy.
Eli signed up for the academy in earnest earlier this fall and has about a month to go with it.
He was able to work with instructor, Joe West, in West's studio in Nashville last year before the program began. This hands-on experience gave her a head start over other academy students and helped influence the production work of her new album.
"I loved every minute of it. I like to work in the studio. I just like to learn. I'm like a sponge, "Eli said.
Although he enjoys living and working in Nashville, Eli said he still misses his home country and family members who reside in N'West Iowa.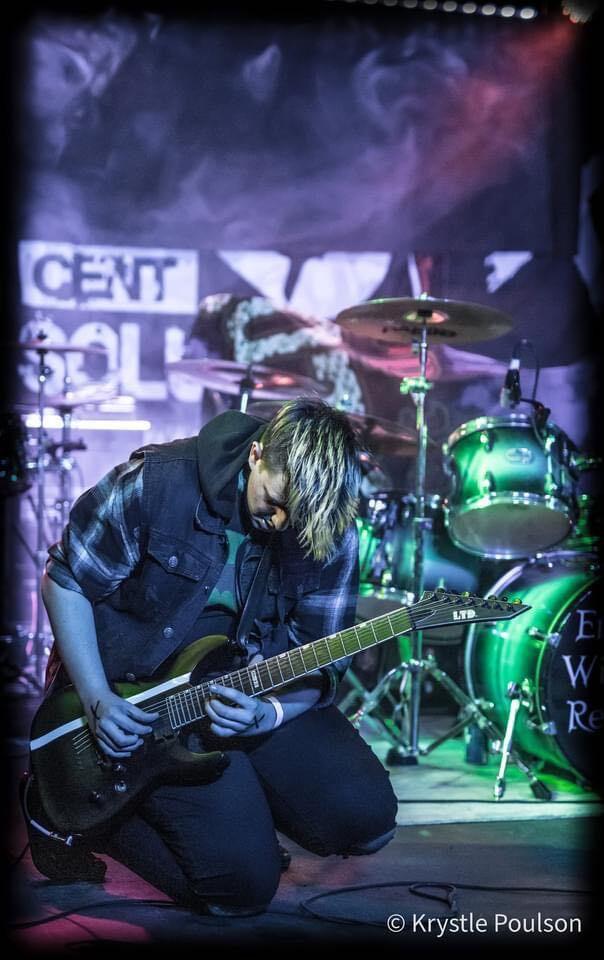 Her mother, Jen, said the 14-hour distance with her lonely child was a tough adjustment. She originally thought he might end up in a city that wasn't that far away, like Des Moines, Omaha, NE or Minneapolis.
"I wish he was closer, but I know he's where he needs to be," Jen said.
Eli and Macy Addis – with whom he is part of a two-person group called Backhand Blue – performed on Saturday, November 19 at the Bigs Bar in Sioux Falls, SD. On November 24, the duo were back in action at Rails Bar & Grill in Sanborn for the restaurant's Thanksgiving party.
In the future, Eli hopes to continue recording music in the studio, collaborating with other musical artists, and traveling the country giving live performances.
"How exactly is it going to be – I haven't thought this far, but it will happen," Eli said. "I know that. I'll make it happen.
---
VOICE TRACKS:
He does not usually sing, but Eli Dykstra, 19, from Boyden, provides the voice on the ninth track on his new album.
The song "Where You Belong" is a memorial to her paternal grandfather, Jake Dykstra of Sheldon, who died last year.
Eli remembers visiting his grandfather in the hospital with his parents before the guitarist moved to Nashville. Due to the pandemic, only one visitor was allowed at a time and Eli had no idea that this would be the last time he would see his grandfather.
Eli's father, Dave, was the last person to see Jake. When he left the room, it was the first time Eli had seen his father cry and so he knew the situation was not good.
"We all hugged and my dad said, 'I don't know if I'll ever be as good as he was," "Eli said. "It really hit home."
Eli couldn't fall asleep that night; instead, the music started coming to him, so he grabbed his phone to write the lyrics. He then took his acoustic guitar to add instrumentals to his vocals. The song is told from Eli's father's perspective and explores stages of grief, such as denial, anger, sadness, and acceptance.
The words he wrote that night are the same as the final version, although he spent the next year prepping about eight different iterations of the song before deciding which one worked.
"It's probably my favorite song on the record just because it's so personal and so close to me. It's a good memorial for the great man he was, "Eli said.
The other songs on the albums with lyrics – "Wrestle with the Angels" and "Fall" – are sung by guest singers Dave Ruyle and Macy Addis respectively.
Ruyle is a member of a band called Black Box Warning while Addis is a friend of Eli whom he met through the O'Keefe Music Foundation.
Dykstra sent the lyrics to "Fall" to Addis and asked him to record himself singing. She sang it in one take and sent it back. This grip is the one Eli ended up using for the final cut.
"There is something so magical about it, when I first heard it," Eli said. "We tried to re-record and we couldn't capture the energy of the soundtrack. "
[ad_2]