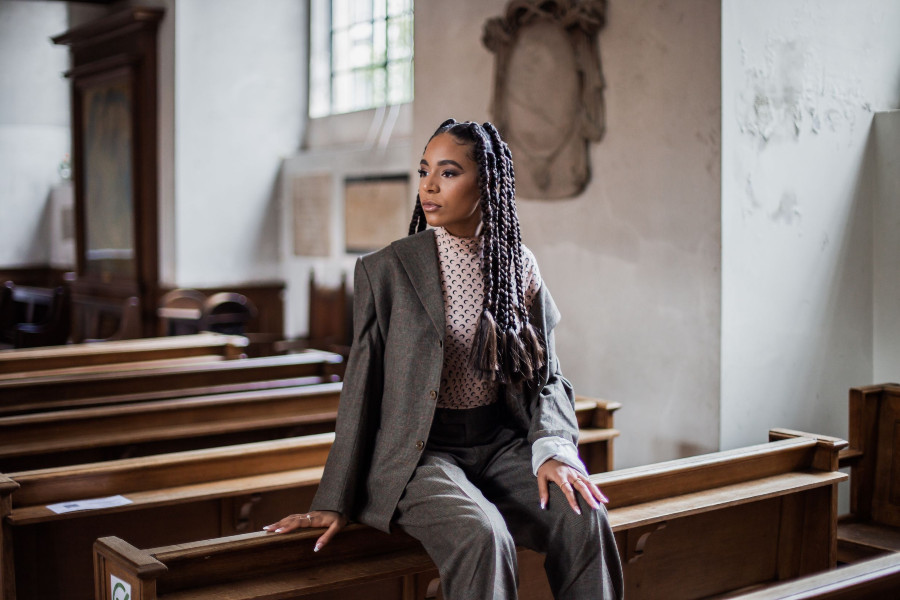 CelebMix interviews Belgian singer-songwriter Lyne Nsongo – "Royal"
London-based Congolese Belgian singer Lyne Nsongo unveils her new single / music video, "Royal", taken from her upcoming second EP.
Both inspiring and uplifting, "Royal" relays the prominence and royalty of women atop R&B flavors tinged with the roaring tone of the trap, while the creme tones of Lyne's creme imbue the lyrics with luscious textures.
"Girl, you're gonna have to know your worth / Because not knowing is just making it worse / I have to know you were gold / Handmade by the only one."
Originally from Belgium, where she grew up immersed in music, then studied music and took dance lessons, Lyn developed her luscious sound while working with her brother and producer DEWI. Now residing in London, she participated in Magazine of the trenches, Red bull, Capital Xtra, lost, Reprezent Radio, and GirlsIRate.
The video, directed by James Agbona, shows Lyne singing and dancing in a chapel, signifying the sacred value of women.
CelebMix spoke with Lyne Nsongo to find out more about the person behind the music, the inspiration for "Royal" and her songwriting process.
What three things can't you live without?

God, music and orange juice …
What inspired your new single "Royal? "
After conversations with friends and colleagues, I realized that many women struggle with their identities. They feel lost, don't know their worth and don't know who they are and their ability to achieve their goals. This song aims to emphasize this, to make them aware of their worth and their kingship in the sight of God.
What's your songwriting process like? Melody first, or lyrics?
Most of the time, I make yogurt to the beat. It just means melodies without words. Then once I finish my melodies, I write over them. Whatever happens, I write first, then I sing it.
What do you hope your fans / listeners take away when they listen to your music?
First, this gospel music does not need to be just the sound of the choir / worship. My goal is to make gospel music accessible to everyone, even non-Christians. Second, I hope they can find some guidance, someone to identify with, and maybe a way to strengthen their faith or just find out about God in a way they never expected.
How did you get started in music? What's the story there?
When I was young my father made me take piano lessons at a classical music academy, but I also had exams and homework and I didn't really like that stress. Later, when I realized that I liked singing and playing keyboards at the same time, I started singing lessons. When I was 17, I moved to the UK to join my brother, a music producer who had moved there a few years before me. I studied at the Academy of Contemporary Music in Guildford and from there I took music as a serious project.
Which musicians / singers influenced you the most?
Alicia Keys is 100% the artist I bonded with from a young age. Playing keyboards and singing is something I saw her do and inspired me to do the same. Right now, Kehlani and Jhene Aiko are two types of sounds that I'm really connecting with.
Which artists do you think are killing him right now?
Savannah Ré is a Toronto artist whom I discovered this year. She recently released an album, Opia, and I strongly think she killed him.
You're working on a new EP. What can you share about this?
Right now I'm focusing on a few more singles before releasing an EP. It's definitely in the timeline though …
Why are you making music?
Express myself through art and influence others. Music is the best way to share and receive messages. The way I feel when I listen to certain songs, I want my audience to have the same feeling. It's just my passion.
For the future, what is the next step?
More music, what I can say is that there will be some feature films, and artists from London and Belgium will be involved.
Follow Lyne Nsongo Instagram | Facebook | Twitter | TIC Tac | Spotify