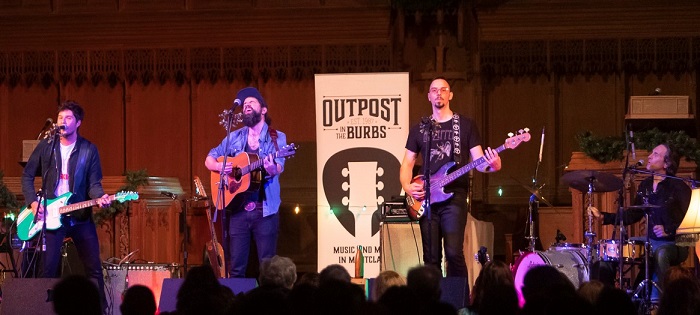 Democracy in Action: New Collaborative Group Fantastic Cat Performs in Montclair
"I literally don't know who's playing that (on the next song)," Don DiLego said, holding an acoustic guitar, during the roots rock band Fantastic Cat's concert on December 11 at Outpost in the Burbs in Montclair.
It was easy to see why he was confused. Band members – along with established singer-songwriters DiLego, Mike Montali (of Hollis Brown), Anthony D'Amato, and Brian Dunne – often switched instruments between songs, moving on stage to play acoustic guitars. and electric, bass, drums, percussion, harmonica and mandolin. With a few exceptions, everyone played pretty much everything, and Michael Hesslein completed the core quartet all night long on keyboards.
The four also took turns singing the main role, with one or more members intervening on the backing vocals; occasionally, as on "Fiona" (see the video below) and a moving closing version of Warren Zevon's ballad show "Keep Me in Your Heart", different members processed different verses.
"Democracy in rock bands, with few exceptions, is often a ticking time bomb," wrote Bruce Springsteen in his 2016 autobiography "Born to Run," explaining why he runs the E Street Band as a benevolent dictatorship. And that's a pretty common opinion in rock circles.
But that doesn't mean there are no exceptions to the rule. I don't know what it is for them behind the scenes, but Fantastic Cat certainly looks as democratic as they come.
They formed in 2019 and have yet to release an album, although they have released several singles. Of course, it's rare for a band to headline a place like Outpost in the Burbs before releasing an album, but that's one of the perks of having all the members of a group that start with their own audience.
The show was billed as a holiday extravaganza, and songs from the holiday season were scattered throughout: covers of "Run Rudolph Run" by Chuck Berry, "Happy Xmas (War Is Over)" by John Lennon and "Christmas All". Over Again "by Tom Petty in addition to the group's" New Year's Day ", released as a single last week. Elsewhere, band members performed songs from their own catalogs as well as new unrecorded material that could be considered for Fantastic Cat's debut album, whenever it could be released.
Everyone brought something distinctive to the mix: Montali, for example, with his distinctly high and piercing voice, and Dunne with his dynamic electric guitar playing. D'Amato sang mostly in a deep and moving way, but delivered his "Armageddon" in a more daring and dylanic way.
It's hard not to think of The Band, due to both the terror and the variety of music in Fantastic Cat – the way different members add different textures, depending on who sings and who plays what instrument.
Part of Fantastic Cat's live package seems to involve a fair amount of good humor ribs as well.
"Now it's time for some real talent," Montali said before singing her first song of the evening.
Dunne later declared himself "the mastermind of the operation" and DiLego bragged about giving singing lessons to everyone in the band.
These guys seem too smart, however, to tolerate true diva behavior. They went out, to Outpost in the Burbs, like four unsupervised friends, having so much fun each other.
"It's kind of like reconnecting with the fun part of things," D'Amato told me of the project in a previous interview. He and his group mates certainly seemed to be doing just that, in Montclair.
Fantastic Cat will perform at the Hollis Brown & Friends show, also starring Run-DMC's Darryl "DMC" McDaniels, at the Mercury Lounge in New York City on December 30. Visit mercureeastpresents.com.
To learn more about the group, visit fantasticecatband.com.
We need your help!
CONTRIBUTE TO NJARTS.NET

Since its launch in September 2014, NJArts.net, a 501 (c) (3) organization, has grown into one of the most important media in the Garden State art scene. And it has always offered its content with no subscription fees or paid walls. Its continued existence depends on the support of members of this scene and art lovers in the state. Please consider making a contribution of $ 20, or any other amount, to NJArts.net through PayPal, or by sending a check made out to NJArts.net at 11 Skytop Terrace, Montclair, NJ 07043.