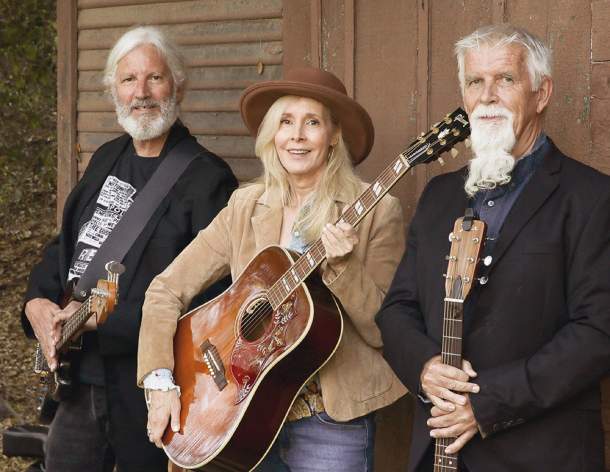 DIANE HUBKA & THE SUN CANYON BAND RELEASE FIRST SINGLE "BATON ROUGE"
Los Angeles folk & roots outfit Diane Hubka and the Sun Canyon Group releases his new single "Baton Rouge", today. Hubka's charming vocals have you dancing to this Guy Clark cover. It's like a sunny stroll through a swampy town in this song about picking up your life and starting something new. Something we can all relate to in this post-covid world. New Orleans-born drummer Lynn Coulter (Leon Russell, Carole King, Rita Coolidge) takes zydeco and African beats and fuses them with the unique guitar sounds of legendary guitarist Albert Lee (Emmylou Harris, Eric Clapton, The Everly Brothers ) .
Their debut album You Never Can Tell (out Jan. 20) dances from '60s folk, delta blues and sing-song ballads to Texas swing and heartfelt country rock. Co-producer/arranger and bassist Chad Watson (Ronnie Milsap, The Burrito Brothers, Janis lan) brings together the honeyed vocals and rhythm guitar of Hubka, the melodic vocals and expressive guitar work of Rick Mayock, and the exceptional choice of mandolin and the exceptional guitar prowess of Albert Lee.
Hubka is known across the country as a jazz artist. She fell in love with the style in college while taking guitar lessons from "a jazz guy," she said. It was there that she first heard influential singer Carmen McRae sing. "I knew then that I had to be a jazz singer." Hubka said.
She moved to Washington DC, where she immersed herself in the city's jazz scene, then to New York, where she studied voice, piano and guitar, received a scholarship from the National Endowment for the Arts and has become an integral part of the city's jazz. stage for two decades.
"I really believe in on-the-job training in music," she said. "There is something about playing in front of an audience that is so rewarding. It improves your game."
Hubka recorded three albums in the Big Apple, including one with legendary saxophonist Lee Konitz, before moving to Los Angeles in 2005, where she recorded three more albums, and even made her way to Japan, touring the country several times. country.
In early 2017, however, everything changed. Shaken by the outcome of the US presidential election, Hubka turned away from a life of jazz and embarked on a new direction – one that felt right to him.
"I wanted to sing protest songs and union songs," she said. "And I think I was just ready to try something different. After all these years of playing jazz, I suddenly felt a call to go back to my acoustic and folk roots.
Prior to her time in DC, NYC and LA, Hubka grew up in Western Appalachia in Maryland. Child of the folk revival of the 60s, with a mother who sang in a folk group, she was a big fan of Peter, Paul & Mary, Joni Mitchell and Neil Young. So she tapped into those roots, bought an acoustic guitar, and started performing her new Americana repertoire at a cafe a few blocks from the Pacific Ocean.
Five years later, Hubka and his Sun Canyon Band released their debut album You Never Can Tell, a lively and seamless blend of breezy Americana, Western swing and Californian folk-pop reminiscent of the work of country-rock icons of the 1960s. 70, Gram Parsons and Emmylou Harris. The album is split between originals (written by Hubka and Mayock) and covers of classics by artists like Bob Dylan, Randy Newman, Chuck Berry and Guy Clark, and it features the playing of legendary English guitarist and mandolinist Albert Lee, best known for his work with Harris, The Everly Brothers and Eric Clapton.
"I'm happy to pay homage to this great American music that I love, while bringing my personal touch to it," said Hubka. "I like to bring to life songs that I think are great."
You can hear him and the Sun Canyon Band do just that on tracks like Guy Clark's "Baton Rouge," dressing it up with kitchen sink percussion and Zydeco vibes, or "Albuquerque," an instantly hummable ode clean air and small towns. life. Written by Rob Carlson, it's a western swing song that gives Hubka plenty of room to flex her jazz chops.
Likewise, the band seem to comfortably inhabit "Shady Grove", guiding the traditional song into a deep-rooted groove. "We did it more like the Grateful Dead version, rather than the Doc Watson version," Hubka said. "It's fun to take inspiration from everywhere and create my own."
Perhaps the most moving song from You Never Can Tell, however, is simply Hubka's original, "Home," which uses imagery of blue skies, lush fields and rolling hills to evoke personal freedom and memories. warmth of his Appalachian home. It's a soft, laid-back folk song that showcases Hubka's talent for drawing beauty from simplicity.
"I draw my spirituality from nature, and 'Home' is about leaving the city and coming back to nature," she said. "It's about the simple values ​​I grew up with in the 60s and 70s – anti-commercialism, anti-materialism. I am inspired by these values ​​and I feel them coming out in this music.
Now it's time for Hubka and his band to share this music with others. They plan to play live as much as possible, both at conferences and on West Coast tours, with the goal of recording and releasing more music soon.
Making You Never Can Tell, Hubka said, freed her to rediscover her musical roots and reconnect with the sound that resonates deep within her soul.
"I'm a stronger singer now. I'm more physically and emotionally connected to these songs. And I'm a more mature musician thanks to this project," she said. "It was an important part of my journey to completely reinvent myself!"