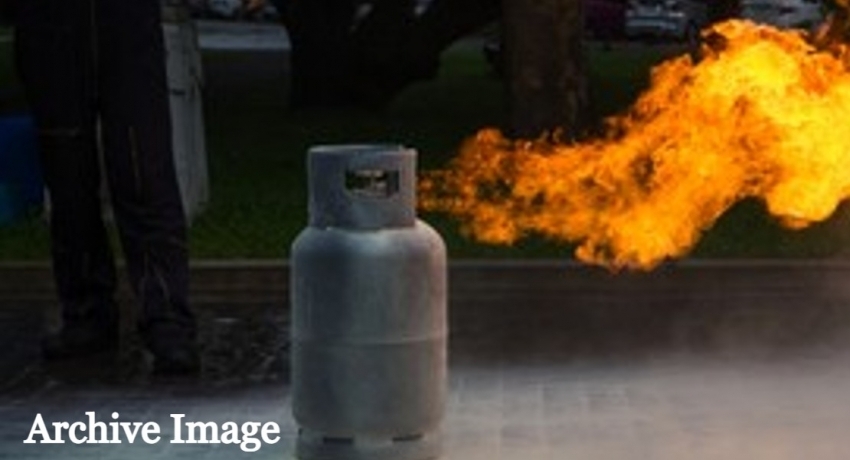 Fourth explosion of a gas cylinder in a month; concerns are mounting over the change in composition
COLOMBO (New 1st); The fourth domestic gas cylinder explosion incident in a month was reported in Kottawa on Thursday (25).
In the early hours of Thursday (25), the domestic gas cylinder from a house near the Pannipitiya school junction in Kottawa exploded, causing serious property damage and luckily no one was injured.
Residents said they heard an explosion and decided to stay inside and it was only when they left their room that they realized an explosion had taken place.
Previous incidents:
March 3, 2021: A person died when a gas cylinder in a hotel in Sangharaja Mawatha, Colombo, exploded.
November 4, 2021: A gas leak resulted in an explosion at a hostel in Kapparatota, Weligama.
November 16, 2021: Explosion of a gas cylinder in a private restaurant near the Ratnapura bus station.
November 20, 2021: A popular fast food restaurant on Reid Avenue, Colombo, in flames after a gas cylinder exploded.
Sri Lanka's government analyst department ruled that a gas leak was the cause of the incidents in Colombo 07 and Weligama.
The government analysts department said in a statement that the fire at the Colombo 07 Fast Food outlet occurred after propane gas leaked into the premises and a spark from electrical appliances hit the premises. caused an explosion.
However, Thushan Gunawardena, Sri Lanka's former consumer chief, raised concerns about the composition of gas cylinders in August 2021 on the Mawatha program.
"There is an SLS standard for gas cylinders. However, there is no standard for the cylinder or the composition of the gas, which means the company can add gas as it sees fit, "he said.
He said that when the companies introduced the 18-liter gas cylinder, the composition was 50% butane and 50%, which is NOT household gas but industrial gas.
"It doesn't happen in other countries," he said during the program in August.
Litro Gas Lanka's chemical reaction engineer Jayantha Basnayake said on Wednesday (24) that there was no change in the composition of domestic liquid petroleum (LP) gas cylinders.
He said gas cylinders are released based on cylinder safety.
"The SLS 712 air pressure standard is provided by the Sri Lanka Standards Institution. The mixture is made according to the climate of Sri Lanka. This equation varies for India and other developing countries. The composition is produced according to the standards required by our country, "added the chemical reaction engineer.
However, energy expert Nimal De Silva said changing the composition (50 to 50) will create a serious problem because the accepted composition is 20 to 80.
"The valve, regulator and pressure should be inspected at all times," he said.
Fourth explosion of a gas cylinder in a month; Concerns grow over composition change "IGP did not take information about April attacks seriously" – Witness Deduru Oya The doors to the spill have opened; Warning issued to people in risk areas Navy deploys transport ferry following Kinniya Tragedy Cycle tour; Say NO to violence against women and girls