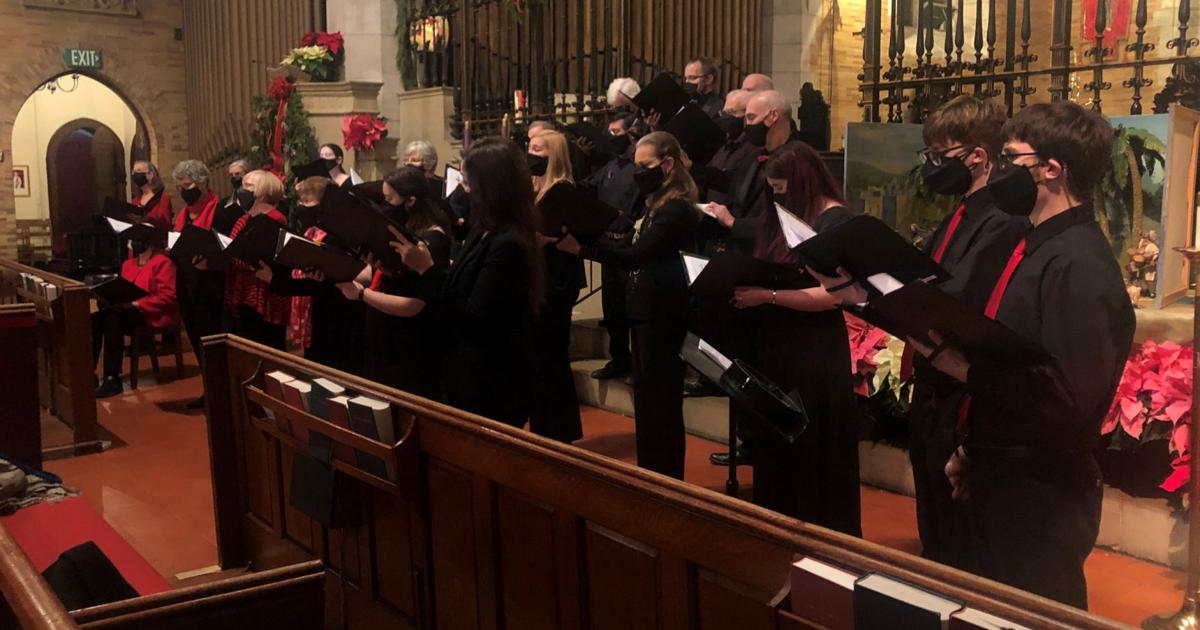 Harmonium Choral Society will perform compositions by high school students | Morris NewsBee News
MORRISTOWN – The Harmonium Choral Society will perform two live concerts featuring compositions from the 2021 High School Composition Competition at Morristown United Methodist Church at 7:30 p.m. on Saturday, March 5 and 3 p.m. on Sunday, March 6.
The group will also perform the music of composers such as Heinrich Schütz, Lili Boulanger, Adolphus Hailstork and Alice Parker.
Tied for second place is Morristown High School senior Lux Onigman, who sings in several choirs, including the Harmonium, New Jersey Youth Chorus, HaZamir International Jewish Teen Choir.
Onigman participated in a virtual Young Women Composers Camp over the summer and the solo vocal piece they wrote for this program was purchased by the National Youth Rights Association for posting on their website.
In addition to music, they enjoy fencing, learning new and dead languages, writing poetry, reading, and riding bicycles.
The grand prize-winning piece, "Alchemy," was composed by 2020 finalist Cranford High School senior Asher Shectman.
Shectman is a self-taught pianist, bassist, guitarist, drummer, arranger and composer.
He plays percussion in his school's bands and marching bands and participates in the concert choir, madrigal choir, jazz orchestra, musicals and an a cappella group. Recently, he decided to study composition at Berklee College of Music. Music is his source of joy and he enjoys sharing that joy with others in any way possible.
Schectman said "Alchemy" is "heavily inspired by the text of the same name. Its soft rubato reflects the delicacy of a daisy, while the triumphant yet expressive harmony symbolizes overcoming grief and resisting the rain. The text carries a much-needed sentiment for the state of the world today.
Kinnelon High School senior Katie Nieto tied for second place.
Nieto is a performer and composer specializing in musical theater and has been playing the piano since the age of six.
Nieto has performed in county, region and statewide ensembles, including the New Jersey All-State Treble Choir, since she was in sixth grade and placed in the top five in as a soprano several times.
She has also performed in various productions at off-broadway theaters in New York City, as well as the New Voices Conservatory at Paper Mill Playhouse since 2019.
As musical director and arranger, Nieto worked with the Breaking Barriers Theater Company on their production of "Spring Awakening" and various cabarets. As a composer, she has just finished writing the book, lyrics and score for her first original musical. She would like to thank Harmonium for this incredible opportunity.
Third-place winner Barron Brothers is a senior at Hopewell Valley High School. He is a member of the concert and jazz groups at his school and the Princeton Boychoir. Brothers began composing at the age of ten and taught himself basic music theory.
"In high school, not only did I develop my style with more advanced music theory and venture into the realm of the 20th century, but I also realized that every piece I composed had to have a purpose, I could copy Bach, Mozart or Shostakovich, but for what reason? said the brothers. "So I compose with purpose, making each of my pieces more meaningful to change people and the world."
An honorable mention goes to Henry Marinovic, a student at Madison High School. He started playing the piano at the age of four and studied with Paul Zeigler. He sings bass in his school choir, plays keyboards with the Madison Marching Dodgers, plays piano in Madison High School's jazz band, sings with Grace Church's all-male a cappella band The Gargoyles, and has played piano, mallets and violin in other ensembles.
Marinovic has composed many pieces for piano and strings, including several piano works that won awards in the Eric Steiner Composition Competition organized by the New Jersey Music Educators Association. In 2016, Marinovic performed his piano composition "Misty Day Prelude" at the Weill Recital Hall at Carnegie Hall.
Marinovic received an honorable mention in 2018 and tied for first place in the 2019 harmonium composition competition.
All singers are vaccinated and will perform masked and socially distanced to ensure the safety of all concertgoers.
Audiences must also show proof of vaccination and ID to be admitted and must wear masks during the concert. The room is large and allows for social distancing for the public. Updated requirements are available on the Harmonium website at http://www.harmonium.org/.