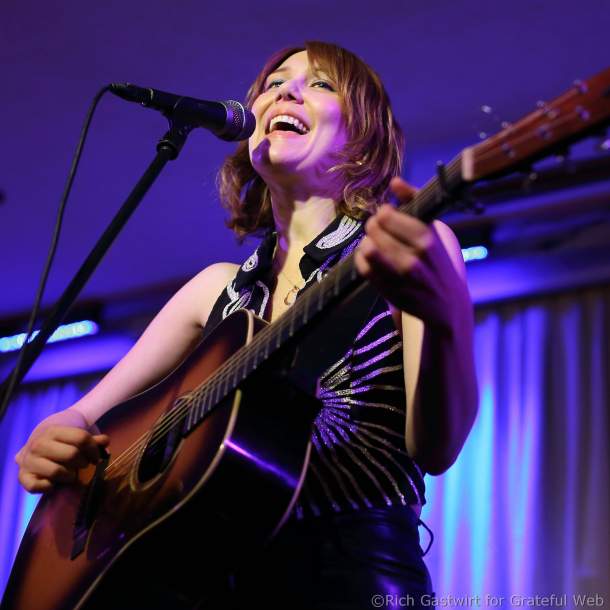 Molly Tuttle and Golden Highway | Restaurant Bull Run | 04/03/22
She finishes playing an original song, "Over The Line", and Molly Tuttle suddenly throws a big smile towards a large crowd. It's clear she's got it all figured out as the audience rises from their chairs to give a standing ovation. It's a wonderful little moment, and at a time when the show is only half over. One of modern bluegrass' promising newest hits, Tuttle has sold out one show after another on his current tour with his Golden Highway ensemble. Restaurant Bull Run Sunday night coming to hot shows in Burlington, Brooklyn and elsewhere was absolutely no exception. Every chair was full and extra people squatted in the doorway all night. While the front section of this venue definitely looks like a much hipper version of a Cracker Barrell, just beyond a few discreet double doors in the back is an exquisite and surprisingly expansive dinner theater out back. And for their part, Molly Tuttle and Golden Highway rocked the house and more, delivering a one-of-a-kind two-and-a-half-hour-plus show with many stylistic facets.
Much like her longtime friend and jamgrass contemporary Billy Strings, Molly Tuttle can certainly face the reality of becoming uber popular primarily for her guitar-picking prowess, which is, for sure, staggering. And she can accommodate that; she also said herself, during a little storytelling on the show Bull Run, that she had no other hobbies than music (she tells the public that she survived the boredom of the pandemic playing more guitar, and from there his beautiful album covers Corn I would rather be with you was born). There were a few searing first numbers on the night, like the traditional "Old Dangerfield" or her own "Castilleja" (a song whose hugely intense improvisational instrumental section of the whole band sounded like a Billy jam) where she didn't had no reservations about showing off those guitar prowess.
Yet Tuttle has so much more to offer. She has a more than excellent singing voice, and the tonal control she commands, taking her voice from delicate, shrill notes to swaggering lows, is as impressive as her picking skills. This double teams up with the great songwriting of his brand new album twisted tree, which of course was played in full throughout the evening. Meanwhile, Golden Highway is daunting. There's Tuttle's brother Kyle on banjo, Dominic Leslie on mandolin and Bronwyn Keith-Hynes on fiddle, and they all play loud. Leslie in particular, at least at Bull Run, might have shone the brightest. Every solo he played just stunned a little. Shelby Means is on bass and never falters, even in the most itinerant and unpredictable parts of the show.
The evening was peppered with a handful of choice covers – classics that we've all heard enough times, but were given a different new energy at the hands of Tuttle and his band. "Cold Rain and Snow" was dramatic and sultry in its creeping rhythm, and totally had a little extra buzz from Brother Kyle's cool pedal wah banjo solo. "Up On The Hill Where They Do The Boogie," part of a much-loved four-song encore, had the right groove but also a sense of pure joy from the band.
Bella White opened the show with her own brilliant performance, which joins Tuttle and the band for the duration of their tour. With his sleepy troubadour style, White still captivated audiences, albeit in a way that contrasted with the energy of Golden Highway. With a bit of comedic charm, White said she only writes sad songs. It was very good: his sad music was as soft and comforting as anything, and you could listen to it with your eyes closed and be easily overpowered.
Check out more photos from the show.