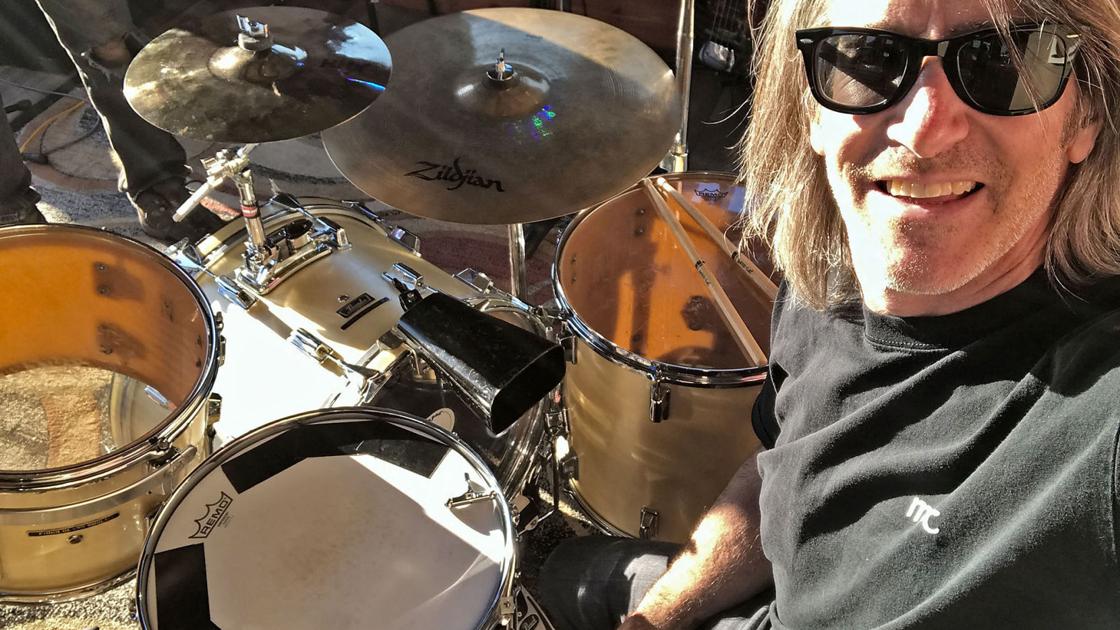 musician who made his mark as a drummer shows his flair for songwriting | Local entertainment
Songwriting has always been part of Brian B. Reidinger's musicality, but he dived deep into that profession with "Black & White".
The hard rock album, recorded under the project name QUEtheSUN, fulfilled a challenge he set himself about six years ago: write 10 songs and stick with the process until the end.
"The lesson for me is that I have collaborated a lot in my life, and I will do it again, and I love that," the Eau Claire native, now of the Twin Cities, said in a video chat. "But at some point I have to be able to show myself that I can do it from start to finish."
Music fascinated Reidinger for a long time.
He remembers feeling the power of Deep Purple music when he was 11, watching the band in a live performance on television. He even remembers the date: April 6, 1974.
Specifically, drummer Ian Paice's playing caught Reidinger's attention, and he took that inspiration and ran with it.
Reidinger has played drums in a number of groups, including the regional band Axis, active in the 1980s. An album released earlier this year, "Apparitions, Dreams, and Imaginings" features a trio composed of Reidinger's percussion and Eau Claire musicians Peter Phippen and Victoria Shoemaker playing traditional flutes in an improvised setting, a contrast to the more catchy songs of "Black & White."
Reidinger also has a flourishing career as a founding partner of In the Groove Music. The company makes jingles, sheet music, and songs for purposes such as television, advertising, news, sports, and video games. His roles within the company include that of Creative Director and Songwriter / Chief Producer.
A piece Reidinger wrote for his companies evoked the sound of a 1980s ballad for an advertisement featuring Budweiser wheat beer. Some people subsequently found the advertisement on YouTube and wondered which (presumably famous) band recorded the ballad.
Early in his writing quest, Reidinger received encouragement from Mark Woerpel, his good friend and acclaimed musician. Woerpel has toured around the world, and has written and recorded as a member of Blackfoot with Rickey Medlocke (now Lynyrd Skynyrd). Woerpel has also recorded with Ozzy Osbourne guitarist Zack Wylde.
Reidinger had played in Woerpel's group Warp Drive, and the guitarist is a writer and studio musician for In the Groove Music. Woerpel is also an instructor for Universal Music Center, based in Red Wing, Minnesota.
Woerpel told him, "You really have to do it for yourself," Reidinger said. "He said, 'And the point is, you can. You know what to do. And you just have to commit to it until it's done.
While agreeing with this advice, "I took another year and hemmed and hauled," Reidinger said with a laugh.
Woerpel recalled this conversation.
"I said, 'You're still working on everyone's business,'" he said in a telephone interview. "'You should try to focus on what Brian's music would be like, because I knew it would come out in a quality style."
In addition to Reidinger, QUEtheSUN offers Woerpel on solo, rhythm, acoustic and classical guitar as well as on mandolin. Mark Westlund sings the lead and backing vocals on the album. (Woerpel and Westlund are part of the group Them Pesky Kids, which describes the sound of this group as "feel good arena rock".)
The first song "Black & White" that Reidinger wrote was "Small Beginnings", the second track on the album. The opening part of the guitar picking is something he wrote 20 years ago as part of the Milwaukee metal band White Fear Chain.
The lyrics take on the serious topic of how a person's education affects their life.
"Small Beginnings" showcases Reidinger's prowess on drums, which impresses with strength and touch without appearing complacent.
"I didn't know what to play on there," he said. "So I finally found this part. I think that was the challenge for me as a songwriter because the drums were often an afterthought. The first thought was to put together something that was musically and harmonically interesting and that fits together. And then I would come back, and put the drums in there, and find my spaces to do what I'm doing or the trends I'm leaning towards.
Woerpel explained what sets Reidinger's drums apart.
"There is finesse in his drums playing," he said. "It's not meat and potatoes. It's fine, fine details in cymbal work and snare work.
The finesse, Woerpel continued, "showed up in a bunch of songs that just have a really nice, really fast rhythm part that suddenly shows up in a rock song, almost to the point of progressive jazz."
Woerpel also mentioned how nice it is to be in the studio behind the glass, watching your friend at work.
"Think of all the people who buy concert tickets to go see drummers in bands," he said, "and for me being able to sit there watching this quality of drums has been a good thing. "
Overall, Reidinger described QUEtheSUN as "a good representation of my abilities as a rock drummer. I can play a lot of other styles like jazz, country, and pop-folk and the stuff I've done ("Apparitions, Dreams, and Imaginings"). For my rock stuff, I was happy.
Reidinger has taken great care in creating quality lyrics, as he has long seen it as a shortcoming in this genre.
"I've always liked the hard rock motif as a medium, as a particular dialect in the vernacular of music," he said. "But I have always been extremely disappointed with the lyrics."
Woerpel shares this point of view.
"We were talking about the fact that lyrics can't just say the same thing: 'We're going to rock, rock, rock' til we drop, drop, drop," he said. "Brian really got into it. That's where he took the plunge because we've always made great music. The biggest challenge in making great music is the lyrics and the melodies.
Reidinger admitted that he was satisfied with his compositions.
"I think I at least got out of the clichés of women, alcohol and drugs, bad behavior and parties," he said. "None of this touched me. I'm 58, "then added with a smile," too much therapy ".
While writing songs never got easy, Reidinger said, it just got easier. The simplest was "Don't Look Back," taken from moving to California at one point.
At first, he did not understand where his inspiration came from but realized that it was about his desire to leave Eau Claire and the evolution of his thought.
"I arrived in California, and you realize that everything you think and feel and believe is in your head," he said. "And I'm no different living in California than I was in Eau Claire than in Minneapolis. My process of maturing and developing any sense of wisdom and understanding of the world and self-awareness had to come through introspection, examination. It was a huge relief.
"Black & White" was broadcast on Twin Cities radio station 93X (KXXR-FM) and abroad, securing several slots on the UK show "Alien Nation", which specializes in metal and hard rock. On these programs, Reidinger's music is mixed with songs from, among others, AC / DC, Iron Maiden and Nazareth. The host of this show also interviewed Reidinger about QUEtheSUN and his other projects.
With his talent in various styles, Reidinger found the QUEtheSUN project rewarding but also enjoyed "Apparitions, Dreams, and Imaginings".
"It gave me immense joy because there is a part of me that is just interested in capturing sound and building those sounds together," he said.
Reidinger said he would like to do live shows with his QUEtheSUN material, possibly in Europe, and return to his hometown.
"I like Eau Claire," he says. "It is a beautiful place."
Among his strong memories of Eau Claire is that of group teacher Howard Lehman, whom Reidinger described as "a huge influence".
"He's changed my life in so many ways," Reidinger said. "He was encouraging and encouraging. He was very demanding, but he too, at least for me, I felt like I was taken care of as an individual. Like he's taking care of me, and that made all the difference.
With the "Black & White" mission accomplished, Reidinger discovered that the creative spark of songwriting continues to emerge.
"The funny thing is I have a bunch of new ones that have started," he said. "I have a few now, and I have lyric pieces, and again, for me, the real lesson in doing all of this has been to let go, not to hang on to expectations or to hang on to expectations. 'trying to define these strange standards… I had to learn to trust myself.
Confidence plays a role, of course, but so does it to happen.