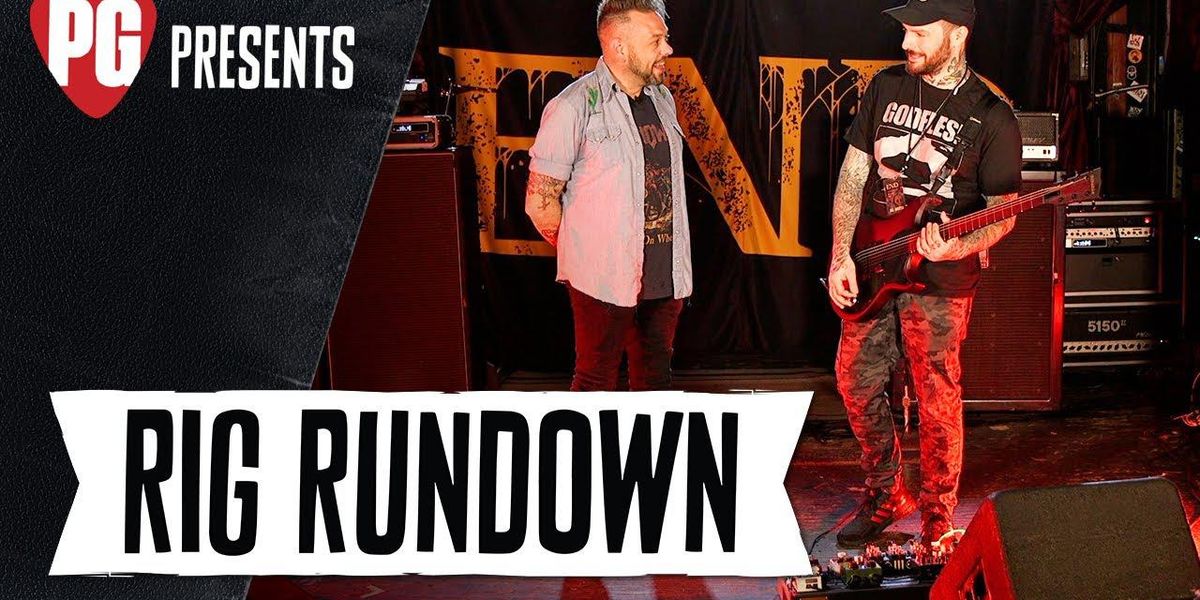 Rig Rundown: END – Premier Guitar
See how these guitar producers create sinister, defiant sounds by combining a Swollen Pickle, 5150s, and wayward pitch shifting.
---
There's heavy music… and then there's End. Formed in 2017, the band consists of vocalist Brendan Murphy (Counterparts), guitarist Will Putney (Fit for an Autopsy), guitarist Gregory Thomas (formerly of Shai Hulud and Misery Signals), bassist Jay Pepito (Reign Supreme) and of drummer Billy Rymer (Dillinger's escape plan). The supergroup was created to push the extremes of hardcore music. And, as you'll soon discover in this Rig Rundown, mission accomplished.
From day one, guitarists (and producers) Putney and Thomas strove for a signature business card. They wanted a monstrous, monolithic tone that would shave listeners. "It's quite aggressive [laughs]", concedes Putney. "When we started the band, Greg and I talked about finding an identifiable tone that was us and sticking to it."
And the roots of their pounding sound? "We're very influenced by the Nordic metal of Entombed, then later Rotten Sound, and the American delineations of Trap Them," says Thomas. "A lot of these bands rely on the Boss HM-2 or clones to get their crushing distortion. We actually landed on the Way Huge Swollen Pickle fuzz because it's more articulate for our canter picking and offers more control.
As the band continues to challenge their consistently overwhelming sound, the Pickle still satisfies. "Every time we record something, we try other pedals instead of the Swollen Pickle, but we always come back to it," admits Putney. "It became the a. This is we."
A few hours before The End's sold-out show at Nashville's the End (proper coincidence), PGPerry Bean of took to the stage to explore the (almost) mirrored, unforgiving setups of guitarists-turned-producers Putney and Thomas. Thomas details how three octave pedals and two noise gates coexist in his setup. Putney pulls back the curtain on his signature development STL Tones Tone Package. And both prove that bottom-heavy fuzz paired with prominent pitch shifting in a 5150 is the way to part the seas and spark moshing madness.
[Brought to you by D'Addario XPND Pedalboard: https://ddar.io/xpnd.rr]
An evil marauder
The connection between Gregory Thomas and the Gibson Marauder can be identified when he first saw Quicksand's video for "A Thorn in My Side". It featured frontman Walter Schreifels riffing on the overlooked singlecut. It was only produced for five years (1974-1979), producing just over 7,000 guitars. The Maurader was designed as a bolt-neck single-coil rival to popular Fender models. Thomas has collected four of these '70s oddballs, and while they all share the same ingredients (modified with humbuckers), he says each has its own distinctive thump and growl.
Currently, this Marauder has a Seymour Duncan Nazgul (bridge) and a Sentient (neck). The neck pickup is disconnected, making the pickup selector a killswitch. For End, Thomas and Putney live and die on the bridge pickup. His Backup Marauder has a custom set of black triangle humbuckers. They exist in Drop C tuning (with the low E tuned to C rather than D, to create more dissonance) and use various brands of .010–.052 gauge strings.
You are wrong ?
The unusual Marauder continues to baffle as it is paired with a headstock normally reserved for Gibson's Flying V guitars.
Amp swap
Prior to starting End, Thomas played rhythm guitar for metalcore band Misery Signals. After finishing a tour, he and lead guitarist/co-founder Ryan Morgan accidentally swapped Peavey 5150 heads. They later admitted to the gaffe but continued to use each other's amps. The above fire eater was used by Morgan on the band's early albums Malice and the Magnum Heart and Mirrors. Since adopting this 5150, Thomas had his innards overhauled by "Stereo Joe", who removed unnecessary resistors and installed larger filter caps, giving the amp more volume and bite. It hits a sturdy 6×12 Atlas that's constructed with 13-ply (3/4″) dovetailed Baltic Birch and finished with a maple hardwood front frame. The speakers inside are four Celestion Vintage 30s and two Celstion G12H-75 Creambacks.
Up, Down, Up
There are basically three main functions or sections in Thomas' pedal set: fuzz, noise, and pitch-shifting. The Way Huge Swollen Pickle is Thomas and Putney's replacement for the famous Boss HM-2 buzzsaw, a hallmark of the Scandinavian metal sound. The Pickle tumbles into the dirty channel of 5150, creating a cascade of dirt and fury. Next is noise (or lack thereof). The ends provide gain, and to keep things tight, both guitarists use two Fortin Zuul noise gates. Thomas puts a new Zuul+ on his board, controlling the Pickle, while an original Zuul spins inside the amp's effects loop to trap any remaining buzz. End's low-end tidal wave of destruction is reinforced by several added pitch-shifters in lower octaves. To accomplish this chest-striking power, Thomas uses an Electro-Harmonix pitch fork (lowering their setting all the way to A#), CopperSound Pedals Triplegraph (co-designed by Jack White), and a Boss PS-3 Digital Pitch Shifter /Delay. (Advanced observers will notice an MXR carbon copy that doesn't necessarily fit into these categories, but it runs it with the modulation circuitry engaged, giving a slight up and down pitch shift to the delayed signal. So it technically could fit under the pitch-changing umbrella.) And a Voodoo Lab Pedal Power 2 Plus brings his board to life, while a Boss TU-2 chromatic tuner keeps his guitars in check.
A Cyclops and Bigfoot walk into a bar…
Guitarist Will Putney first made his mark in heavy music when he started deathcore merchants Fit for an Autopsy in 2008. Soon after, he added production to his music credits when he opened Graphic Nature Audio, its studio in Belleville, New Jersey. He has since put his stamp on over 50 albums by various bands, including Every Time I Die, Counterparts, Like Moths to Flames, Body Count, Four Year Strong and, of course, his own outfits. All of this background information is relevant to establishing that Putney wastes no time with niceties.
When he was looking for a Dunable Cyclops, he asked builder Sacha Dunable (also Intronaut guitarist/vocalist) to give him the "crazy" mic, so Dunable dropped his Bigfoot. Rail-type ceramic passive pickup offers approximately 20k of firepower. The swamp ash body features a single oversized knob that controls volume, and it comes with a 25.5″ scale length.
5150 Part Two
Like Thomas, Putney doesn't leave home without his Peavey 5150. He's owned this 5150 II model since he was 18 years old. He tours with another Peavey 5150 and loves recording with the EVH 5150 III (EL34), but it's the a. (Therefore, it's tucked away in a travel-safe road case.) It powers a similar Atlas 6×12, to match Thomas' sound avalanche.
Putney sprays with pedals
The first five pedals in Putney's chart are the same as Thomas's (TU-2, Zuul+, Pitch Fork, Swollen Pickle, and Triplegraph). His board forms its own shape with the addition of the Abominable Pedals Demon Lung (fuzz), EarthQuaker Devices Astral Destiny and MWK Audio Design Lonely Ghost (delay/reverb/boost). It runs a dbx 266xs Compressor/Gate in the 5150 II's effects loop.
From articles on your site
Related articles on the web