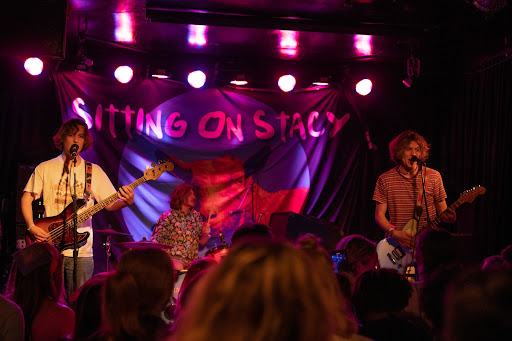 Sitting on Stacy is getting ready to bring beach rock vibes to Chicago's Riot Fest this fall
In an interview with the DePaul Music Business Organization, indie classic rock band Sitting On Stacy gave some insight into their early days and progress ahead of their Chicago gig at The Beat Kitchen. Now under the leadership of their label and partners 1824, Republic Records and Let's Get It! Records, the group rose rapidly within the industry and reflected on their performance experiences. festival that includes Chicago's own Riot Fest.
Sitting On Stacy is made up of Hoyt Yeatman (vocals/guitar), Kyle Hart (bass/vocals) and Trevor Smith (drums). Hailing from San Diego, Calif., the band stopped in Chicago on their first national tour, showcasing songs from their two released albums, 2019's 'Perfectly Sane' and 2017's 'Obsessed', as well than their new singles. .
Meeting at Rock Nation studios as young boys, they began playing classic rock songs for family and friends at local bars. Yeatman explained their early beginnings as performers.
"We were all about 10, they would put the kids in bands, and they'd have us cover three songs, like Guns N' Roses, rock dad songs, and we'd perform at local bars and stuff," he said. said Yeatman. .
In high school, the members broke up, forming individual bands, but eventually came together to start writing and performing music. But this time at the University of San Diego, where Yeatman and Hart were enrolled.
"We kind of had different bands in high school, and over the course of everything, we blended together," Yeatman said. "College is where we took off, played house shows and all the craziness of San Diego."
Right after the start of the Covid-19 pandemic, Sitting On Stacy posted their first video on TikTok on March 24, 2020; an indie-esque mini-clip and a cover of The Cure's "Boys Don't Cry" that amassed over 150,000 views.
"I remember our first cover…and we were like, 'Oh, well, let's just post something, it's cringe,' and then there were so many views and we were blown away," a said Hart.
"We became addicted to it," Yeatman added.
Shots went from boys playing in a grassy mountain scene to crying on a bathroom floor with an ever-appropriate black and white filter to add drama. Seeing the success of this video, the members focused on more classic rock covers paired with fun music mini-videos, connecting them to new audiences that wouldn't have been reached without TikTok.
TikTok has been a valuable resource for a wide variety of musicians, and Sitting On Stacy understands what that can mean for upcoming artists. Having access to high-quality video production gives them an edge over smaller indie artists, as their visual style is very clean, dynamic and immediately catches your eye as a casual scroller on the app constantly throwing contents. "It kind of helps you get a lot of exposure to the remote fans, you wouldn't get that post on Instagram," Hart said.
Sitting On Stacy continued to find success on TikTok, with actor John Stamos dueting a TikTok cover they did of The Beach Boys' "Wouldn't It Be Nice," coincidentally with the former member of the Beach Boys Mike Love. Other celebrities include Joe Jonas and Mark McGrath. TikTok has allowed many artists to better connect with their fans on a more personal level, something Stamos has exempted by reaching out to the boys to possibly even attend their show in Los Angeles.
Yeatman recalls the moment he discovered the "Full House" actor was interacting with their content.
"I was walking up the stairs and saw the notification that John Stamos was dueting [our video]," he said. "He reached out and followed us, and he's really nice. We'd be DMing like all the time, and when we posted the tour [announcement] he was like, 'When do I get the invite?' so we invited him to the Roxy [Theatre] show in Los Angeles"
Posting covers seemed to be key to their viral success for a while. Most of Sitting On Stacy's TikTok videos of 2021 consist of classic rock covers and hundreds of supportive comments asking for their favorite rock hits. However, they used that momentum and audience to promote their own music, with singles such as "This Summer's Day" and "Some Kind of Way" adding to their feed with equally dynamic and engaging videos.
Sitting On Stacy's music spans a range of indie and alternative sounds, from more grunge rock tracks like "Apple Pie" and "Bleed Mentally" with gritty electric guitar riffs and vocals, guitar solos and raw lyrics, to their new singles "Chest Hair" and "This Summer's Day" with lighter brassy tones in the electric guitar that give off a beach rock, teen summer vibe paired with lyrics about summer love, freedom of spirit and fun that so many of their fans adore.
Speaking about their already wrapped tour dates, including stops in Atlanta, New York and Dallas, the band shared that they were blown away by the support. The band was visibly excited as they reminisced about signing Sitting On Stacy shirts, boots and merchandise on their completed tour dates.
"Fan interactions have been wild everywhere we go," Yeatman said. "So many people across the country have been really nice, and everywhere we've been, they've been singing the words, smiling, moshing, dancing – it's crazy. Especially the new songs, and everyone's singing them back , and we're like, 'What the fuck?' Go to all those places we've never been.
"We don't know if the fans will show up, but they showed up, and it was awesome," Smith said.
As for their plans after their month-long tour, Sitting On Stacy are already excited about the future, hoping to release new singles and return to the studio.
"Festivals, hopefully," Hart said, "And a few other summer shows."
"Also rest," Smith said with a smile.
Sitting On Stacy will be back in Chicago for Riot Fest on Friday, September 16.