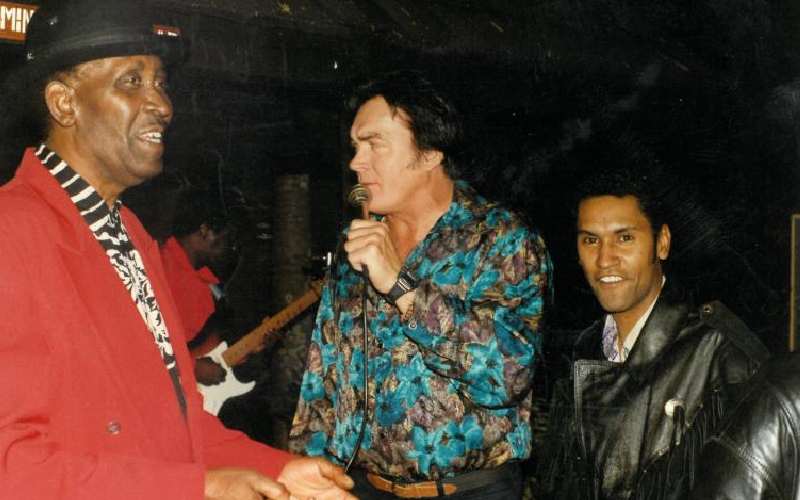 The musician told the world that Malaika was his original composition
Kenyan musician Fadhili Williams Mdawida is widely believed to have composed and recorded the timeless hit Malaika.
He came out shortly before his death on February 11, 2001 to openly state that he was the mastermind behind the song which had other artists in East Africa and beyond jostling for a stake.
While in his 60s at the time, Fadhili had returned a few years earlier from the United States after a 15-year stint in the land of opportunity. Malaika was the driving force behind his time there, he said.
What prompted his return? Fadhili's response was clear and direct: "Home is always better and I wanted to be with my people during my party years."
He chose Green Park where a suburban matatu terminal has now been built next to the sprawling Uhuru Park in Nairobi to declare to the world that Malaika belongs to him.
Tall and imposing, Fadhili arrived radiant in a well-cut gray suit with a bow tie. He headed straight for where I was sitting alone; guided by my clothing style that I had explained to him on the phone, my notebook and the camera that I had taken to immortalize the moment.
Anxiously awaiting this celebrity I had only known from pictures, my heartbeat was almost audible as he held out his hand for me to shake, pride splashed all over his face. "I am Fadhili," he introduces himself with a smile.
"This will be my first interview with the press since my return. I hope this settles the controversy surrounding my international success, Malaika.
"I am the one who designed and delivered Malaika to the world in 1963. I am the guardian of this jewel. Others offered various lyrics and added words here and there. They are just pretenders. I own the throne.
What inspired him to compose and record the song that was destined to become a worldwide hit?
Fadhili rubbed his eyes, ostensibly to invoke old memories, and said with a smile that showed healthy teeth, "There was this woman I loved and intended to marry, but I couldn't afford the bride price set by her parents. Let me keep his name a secret. It pained me to see my angel being handed over to a rich old man. I composed the song to console her and soothe my hurt feelings," he said.
Does he intend to act against suitors eyeing his throne, including Miriam Makeba, then reputed Queen of Africa, Angélique Kidjo and others?
Fadhili said he was not considering any action as others' words were different.
"People know parrots that like mimicry and repetition. They associate the song with me, regardless of the versions. They always demand that I play Malaika every time I'm on stage, locally and internationally," he said.
He slandered the fact that Malaika was first written by Tanzanian Adam Salim in 1945 while living in Nairobi, for a beautiful girlfriend he could not marry after his parents disapproved. their relationship because he was poor.
He said he wrote and recorded the song with his Jambo Boys Band in 1963. He said the song was later recorded at Equator Studios by music promoter Charles Worrod who released it internationally.
Fadhili said music runs in his blood, something inherited from his father who was a traditional musician in Taita Taveta District (now Taita Taveta County). Three of his siblings were also musicians.
He had no qualms about stating that he dropped out of high school in Shimo La Tewa to pursue a music career.
Besides Malaika, his hits include Taxi Driver, a song about him trying to hire a taxi in Nakuru, in an effort not to break a promise he made to a woman he was to meet after her car had a flat tire in Naivasha. He also sang Pole Musa, among others.
Fadhili was born in 1938 and died three years after returning from the United States.