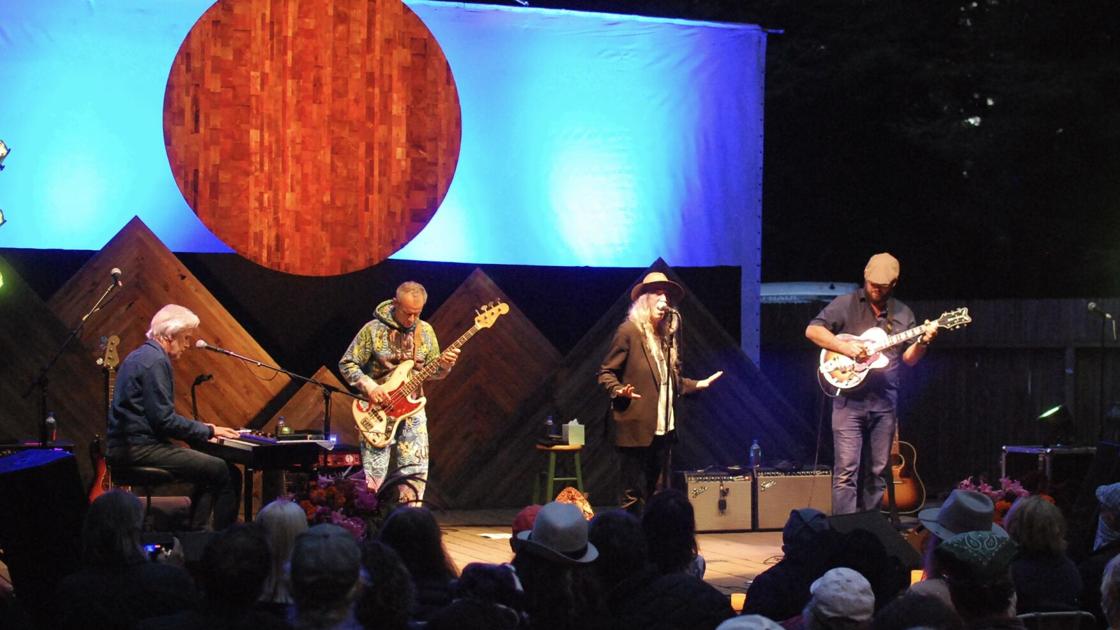 With special guest Flea by her side, Patti Smith delivers powerful Big Sur performances. | Arts and culture blog
With nearly half a century of performances to her credit, Patti Smith still commands a stage. Whether she shouts into a microphone, spits on the floor and forces the crowd to stand up during her punk rock ballads, or paints a thoughtful vibe as she spreads one of her poems, Smith keeps her audience excited. in love.
The second night of his two-night run at Big Sur's Henry Miller Memorial Library was further proof of his artistic power. Even with Flea, among the most famous and energetic faces in rock 'n' roll over the past 30 years, making a surprise appearance as the band's bassist for the evening, public attention remained steady on Smith.
Hailed as an evening of words and music, Smith, icon of the 1970s New York punk rock movement and revered writer and poet, has woven his 18-track set between songs and poems, originals and covers. With Flea on bass, his son Jackson on lead guitar, and longtime collaborator Tony Shanahan alternating piano, guitar, and bass, Smith presented audiences with classic originals such as "Dancing Barefoot," "Because the Night," " Redondo Beach "and" Gloria: In Excelsis Deo. " She covered Stevie Wonder, Bob Dylan and riffed on The Beatles. During a halfway bathroom break for Smith, Shanahan led the band to a Rolling Stones medley, honoring the late drummer Charlie Watts.
Smith read original poetry with pieces like "An Ode to the Writer" and paid homage to local poetry icon Robinson Jeffers with a few of her selected poems, which she read while her band locked in the background, eventually leading to a screaming crescendo. Jeffers would have been proud and maybe even blushed when Smith admitted, "When I was younger I had a crush on Robinson Jeffers."
With books like Just kids and Train M, Smith the writer has always portrayed herself as someone who isn't ashamed of who she is, who loves her experiences and the intricate details that go into them. In front of the mostly 250-year-old crowd at Big Sur on Tuesday night, this character's honesty was clear.
"I don't mind being uncool," Smith told the crowd. "Because when you've lived as long as I have, you go through times when you're really cool and times when you're really not cool. And then you're cool again.
Towards the end of the evening, when the group performed "Because the Night", dedicated to the father of their son, Fred "Sonic" Smith, the crowd was overjoyed, shedding older bodies and white hair to reveal young souls. and energetic, stomping on the ground and hitting the air as they screamed. Sometimes it was as if Flea, known for his crazy energy on stage, was trying to keep up with Smith.
For Smith, it was a successful "return" to the Henry Miller Memorial Library, which is celebrating its 40th anniversary.e birthday. Smith and his band performed the library's first benefit concert in 2004. As library director Magnus Toren says, Smith was to perform the show at the library, which at the time was a still nascent music venue; However, when Toren received his team's tech specs, he became overwhelmed and realized that there was no way the library could host a Patti Smith show.
So, in a few last minute maneuvers, the show was moved to the Sunset Theater in Carmel. Toren says the September 6-7 shows were, in a way, both a comeback and a debut for Smith.